Payment Reason
Overview
Segment your transactions and easily identify revenue by different streams.
Gain greater financial control by segmenting transactions.
Payment Reason allows you to collect payments for multiple reasons, services and divisions through a single MerchantSuite membership. Easily identify and report revenue by different revenue streams. You can also customise and create rules to manage payments for each payment reason, such as reference labels and instructions, types of cards accepted, surcharging, and more.
Segment your transactions and identify payment trends across products, services, departments and divisions
Apply different reference labels to identify your customer and what they are paying per Payment Reason e.g. Account Number, Order Number, Invoice Number, Student Number
Accept different cards and wallets
Reduce costs and complexity by maintaining fewer merchant accounts
Reduce erroneous entry and fraud by validating reference numbers that use checksums/algorithms
Be in control with the ability to update your settings immediately.
---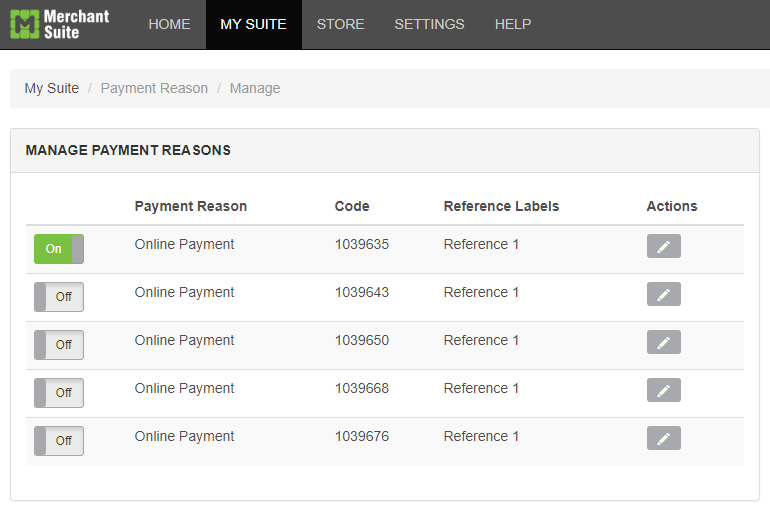 ---
Features
Setup up to 5 payment reasons per account where for each payment reason you can:
Set different transaction limits
Setup the number of references (up to 3) to collect and their labels
Turn on/off different payment cards and wallets
Set surcharges to recoup your cost of processing
Enable the tokenisation mode to allow customers to opt into storing their card for future purposes and direct debit.
---
How Do I Get Started
1.

Click on the Start Free Trial or Register Now button to start the process.

2.

Log into the MySuite Portal

3.

Select Payment Reasons product and start setting up the Payment Reasons as needed.
---
---
FAQs
At least one Payment Reason must be turned on.
MerchantSuite allows you to set different validation rules for References to make sure that payments are coming from legitimate customers. We have various methods to do this, such as requesting a prefix/suffix or using the Checksum Algorithm which can automatically generate reference numbers that will be validated against the referenced provided by the customer.