Batch File
Overview
Process multiple card payments within a batch file.
Upload your batch files containing your on account customers that need to be debited in MerchantSuite for processing.
---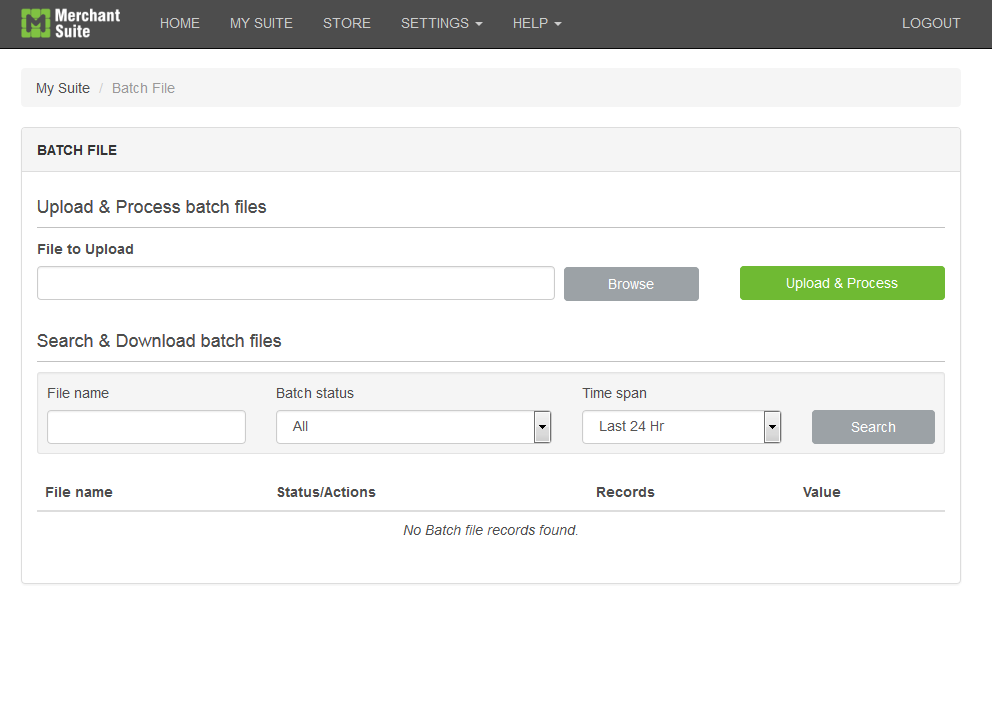 ---
Features
Easy to use
Returns smart decline actions so you know whether you should retry, contact your cardholder or contact the bank.
Both a declined report and a full (approved and declined) report is available so that the report is purpose fit for your teams.
Optional receipting (email)
Simple refund management
Secure - PCI DSS Level 1 Compliant
Supports multiple card schemes (MasterCard, Visa, American Express, Diners and JCB)
Easy reconciliation
---
How Do I Get Started
1.

Click on the Start Free Trial or Register Now button to start the process.

2.

Log into the MySuite Portal

3.

Start transacting and receiving payments
---
Upload Data Format:
Batch file
Download Data Format: Batch result file, Settlement file, Ad-hoc search export
---
Technical Requirements
Your Business Needs: Ability to create batch files in the MerchantSuite file format, and any internet enabled device that supports secure browsing. Visit the Help page to view the supported browsers.
---
FAQs
The Payment Card Industry Data Security Standards govern the credit card security standards for all entities that handle card data. The PCI Security Standards Council website contains more information.
https://www.pcisecuritystandards.org/index.php
Yes, MerchantSuite is Level 1 PCI DSS compliant.
Yes, simply enable Batch File receipt emails in Messaging and a payment receipt will be emailed to your customer if you include the email address within the batch file.
A settlement report is available from the MySuite Portal the next morning. The total amount reported is the amount that will be settled to your settlement account.
Settlement is performed by your bank and/or your Charge Card Company. MerchantSuite does not delay settlement.
The MySuite Portal provides the ability to search for the original payment and refund it. As the refund is matched to the original payment, you do not need the full card details to perform the refund. Alternatively, refunds can be processed via Batch Files.
Yes, partial refunds are supported.